EDIT:It's all ready and live right now! Go! Claim your trophy sigs!
The web team have been working hard since we first launched PlayStation Network sign in and account management on the eu.playstation.com website last year.
During the next few days, we'll be launching new PlayStation Network-integrated features on the eu.playstation.com website. In this Forum thread, we'll introduce you to some of the main changes that you'll see when you sign in to the website later this week.
The Dashboard
The first change that we're going to introduce to you is a new feature we're calling the "PSN Dashboard". It will appear at the top of every page on eu.playstation.com and you'll be able to use it to sign in to PlayStation Network and quickly view your PSN Portable ID, Quick Friends List and most recent Trophies (more on these in a bit).
You can open and close the dashboard whenever you like whilst browsing the eu.playstation.com website. Here's how the Dashboard will look when it's closed:

And here's an example of what it will look like when you're logged in to PSN and have the Dashboard open: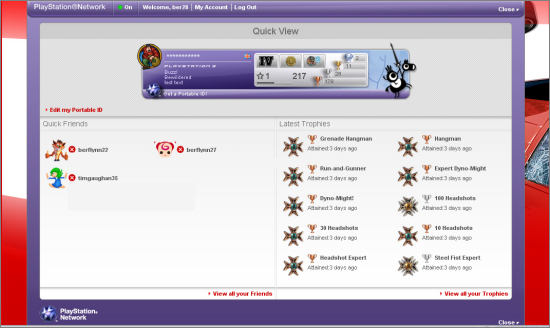 And now onto the new sections for your PSN profile on the web…
My Friends
Wondering what your PSN Friends have been up to? The new "My Friends" page will allow you to browse your PSN Friends List, see if they're online and take a look at the number of Trophies they have (and gloat mercilessly if they have less than you!).
You can also select up to 10 "Quick Friends", who will be highlighted with a gold icon to the left of their avatar. We're still working on the full functionality for the Quick Friends feature, which will be introduced in the future, but for the moment your ten Quick Friends and their online status will appear in the Dashboard.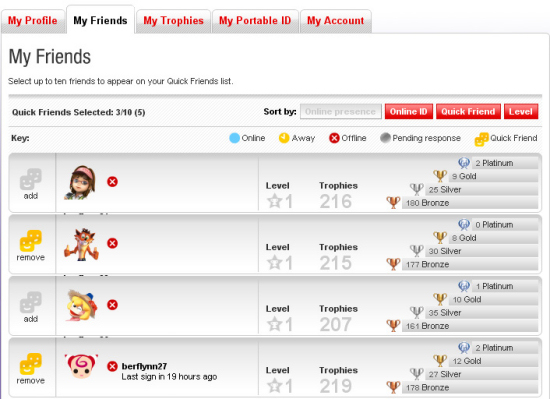 My Trophies
The shiny new "My Trophies" page will also be appearing in your account profile, to display all of your PSN Trophies!
The screenshot below shows the default page, where you can see an overview of all your total Trophies. Then just click on the game names, shown below in red, to see a full, detailed and sortable (is that even a word?) list of all the Trophies you've earned.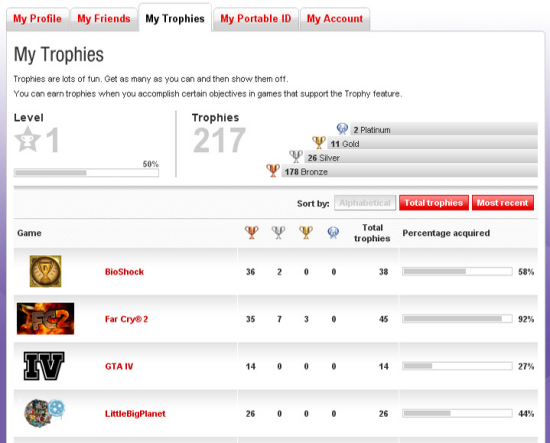 The My Trophies page is only visible to you, but if you want to show off your dazzling collection of Trophies, you might like to hear about some of the improvements that we've made to the PSN Portable ID…
New-look Portable IDs
We first launched the PSN Portable IDs back in November last year and were thrilled to see so many of you instantly add them to your forum signatures and other websites. In this week's update, you'll get lots more customisation options for your Portable ID; including a wider range of themes and more titles to choose from in the "Favourite game" list.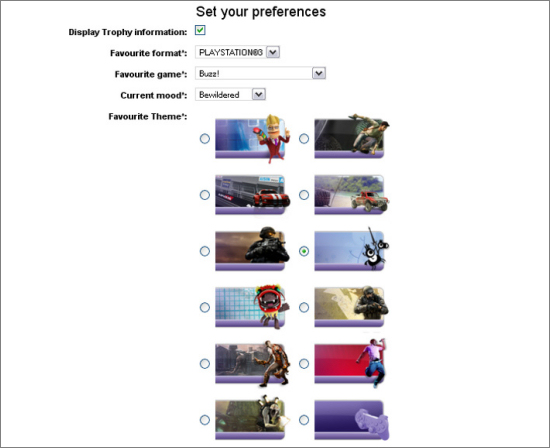 What the above screenshot doesn't show is the expanded version of the Portable ID that will include Trophies and icons for the PS3 games you're playing at the moment. Here's a sneak peek:
So that's our overview of the new PSN features that will be hitting eu.playstation.com later this week. We'll let you know once everything's live – don't worry; it won't be long to wait!
Over the coming months, we'll also be bringing you more updates about cool new features for the eu.playstation.com website and forums. Watch this space!